Ever wondered why that shiny new gadget you bought malfunctioned just weeks after purchase? Or why that bridge you drive over daily feels a tad wobbly? It's all about quality, my friend. Engineers play a pivotal role in ensuring that products and structures are top-notch, and this is where Quality Assurance and Quality Control (QA QC) courses come into play. They're not just fancy acronyms; they're the backbone of impeccable engineering.
Scope of QA/QC Courses for Mechanical Engineers: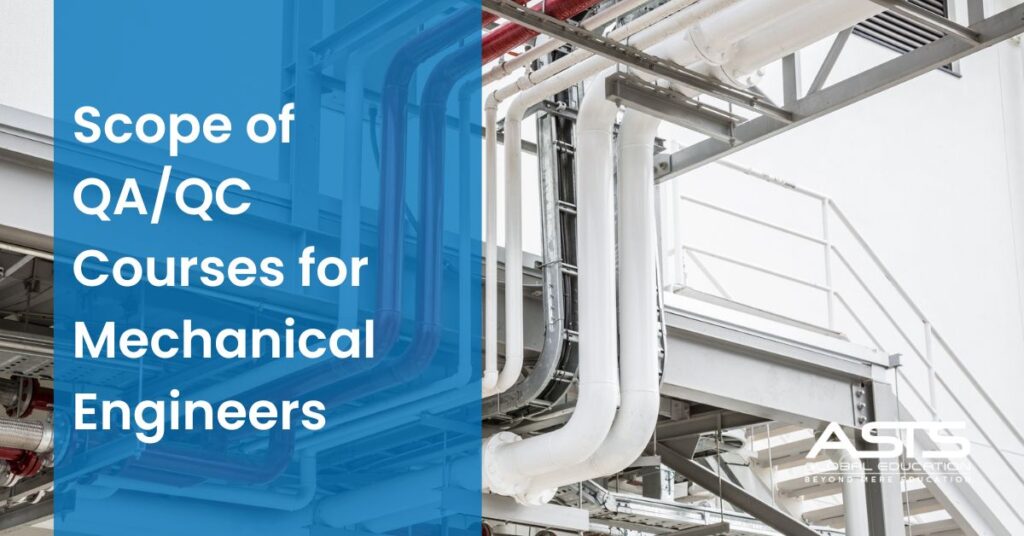 Fresh out of college with a mechanical engineering degree in hand, you'd think the world's your oyster, right?
Think again! The vast and intricate world of engineering subjects might have given you the basics, but the industry today demands more.
The modern industry is a complex beast. It doesn't just want engineers; it wants multi-skilled, specialized wizards.
To ascend to industry mastery, it's essential to enroll in a QA/QC Certification Program that encapsulates 3-5 years of practical industrial experience within a holistic curriculum.
Once you've wrapped up the QA/QC certification program, you're set to step into positions like Civil QA/QC Engineer, Mechanical QA/QC Engineer, E & I QA/QC Engineer, QA Manager, QA/QC Manager, and QA/QC Inspector.
After completing the QA/QC certification program, you'll be primed to venture into sectors such as Heavy Fabrication Industries, Civil Mega Projects, Construction Projects, Power Plant operations, Refineries, the Petrochemical domain, and the expansive world of Oil & Gas.
Having NDT/QA/QC expertise coupled with some piping experience can pave your way to job opportunities in offshore companies in Gulf countries, especially since mechanical engineers often specialize in NDT, underscoring the synergy between QA/QC, NDT, and mechanical engineering.
QA/QC Certification Blueprint for Mechanical Engineers: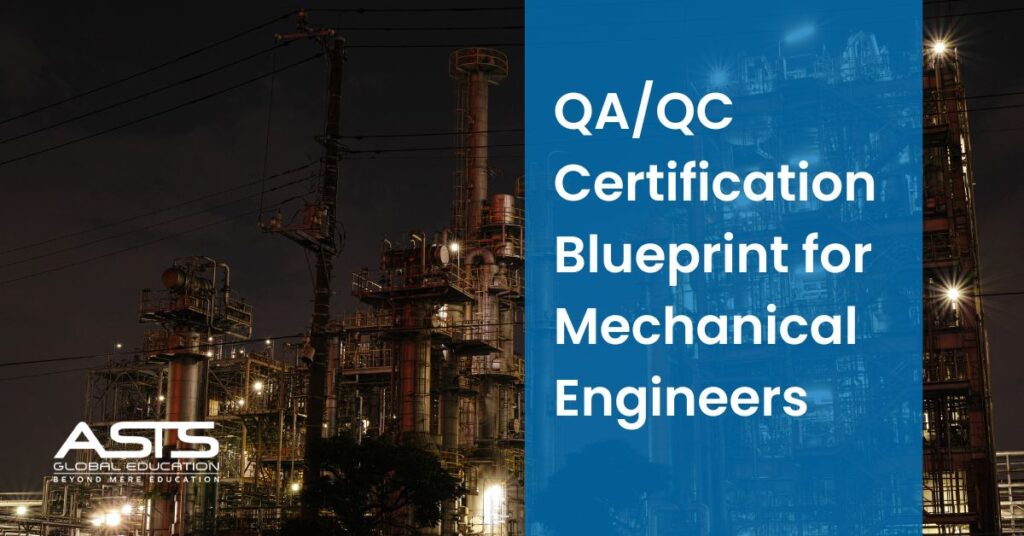 Now, if you're a mechanical engineer dabbling in electronics, you might wonder, "Is there a QC course tailored for me?" The answer is a resounding YES! Whether you're into electronics, construction, or aerospace, there's a QC course with your name on it.
When undertaking the QA QC course, it's essential to recognize that it provides a methodical pathway to bolstering skills and deepening knowledge in QA QC, all while adhering to global benchmarks.
The curriculum covers the formulation of ITP's QCP's, sequential inspections, a range of QA/QC tasks, and the crafting of a Project Quality Plan tailored for any project.
Furthermore, the course dives deep into areas like Piping engineering, welding scrutiny, and NDT.
To excel as a top-tier QA/QC expert, it's essential to hone your problem-solving abilities, organizational prowess, and communication skills, given the diverse clientele and workforce you'll interact with. A keen eye for detail is paramount in this role.
Also Read: Courses After Mechanical Engineering
Types of QA/QC Courses for Mechanical Engineers:
QA/QC and NDT are intrinsically tied to Mechanical Engineering, with many NDT specialists stemming from this discipline.
Starting with an ASNT Level II in NDT is commendable, but aiming for Level III can catapult one into managerial echelons.
Diversifying expertise across NDT methods, from Radiography to Ultrasonic testing, is a career booster. Welding knowledge, especially in sectors like Oil and Gas, is a treasured skill, with AWS and CSWIP courses offering a competitive edge in the Gulf.
The significance of painting, particularly in corrosive environments of the oil sector, makes BGAS certifications a hot commodity. 
Having an Oil and Gas QA QC Courses certification will boost your career to next level in Industry.
In the modern Oil and Gas sector, ISO 9001 certification is non-negotiable. As global trends lean towards ISO standards, a QMS Lead Auditor qualification becomes invaluable. With the right credentials, the QA/QC and NDT fields are rife with opportunities. Aim high and success is within reach!
Here are some Major course you can try to get certified:
Health Safely Environment (HSE)
Certified Welding Inspector
Non-Destructive-Testing (NDT)
Painting & Coating Inspector Course
Mechanical QA QC Courses
Also Read: Mechanical Engineering Course After 12th
Conclusion
So, there you have it. A world of QC courses waiting for you to dive in. And guess what? All these programs are available at ASTS Global – The leading oil and gas piping design course provider in India. Why settle for mediocrity when you can be exceptional? Elevate your skills, boost your career, and be the engineer everyone looks up to. Ready to take the plunge? Enroll now and take your career to stratospheric heights!
Join ASTS Global's QC Courses Today!
Why wait? The world needs quality, and you can be the one to deliver it. Join ASTS Global's QA/QC courses and be the change-maker in the engineering world. After all, quality is not an act; it's a habit. Make it yours today!
FAQ:
Can I directly join the quality department of an organization as a fresher?
It's challenging for freshers to secure roles in the quality department immediately. Typically, organizations favor individuals with experience for QA/QC roles due to the expertise required.
Should I consider a QA/QC job right after Mechanical Engineering?
It's advisable to steer clear of jumping into QA/QC roles straight out of college. Doing so might limit your foundational learning. Instead, consider starting in the production or manufacturing sector. This allows you to grasp the core processes.
Why is it recommended to start in production or manufacturing first?
By immersing yourself in production or manufacturing, you gain a deep understanding of processes. After 4-5 years, when you transition to quality, you'll be better equipped to enhance, modify, or innovate these processes.
What's the downside of joining the QA section without prior experience?
Without a solid grounding in the basics, your role in QA might be reduced to administrative tasks like reading and printing reports, rather than actively contributing to quality improvement.