Are you an engineering graduate looking forward to pursuing piping design software courses in UAE?
Perplexed about which course to choose among the wide options?
This blog will enlighten you on the 5 best piping design software courses that you could consider pursuing in UAE.
Piping design is the most crucial part of the process plant. It involves designing a piping system that safely transfers fluids of substantial pressure and temperature from one point to another. Every minute detail in piping design is considered critical to avoid any risk.
An engineering degree alone won't help you to stand in the crowd of competition. Thousands of engineering pass out each year and piles of resumes end up in organizations or firms' tables for job seeking. To get attention from them you need advanced knowledge, skills, and qualifications.
Piping design software courses are an excellent course option for engineering graduates looking ahead to pursuing a short-term job-oriented program. There is a huge demand for personnel skilled in piping design, especially in UAE. UAE can be called a hub for many industries including oil and gas and offers great many career opportunities and career prospects for individuals who possess specific skills and qualifications.
In this blog, we will discuss the 5 best piping design software courses in Dubai, UAE. These courses are picked out after digging deeper into the scope, growth potential, and career prospects it provides for professionals. The list of courses are:
Aveva PDMS
Aveva Everything 3D (E3D)
Smart plant 3D
Caesar ||
Bentley Autopipe
Read through the entire article to explore further on each course. So without any further ado let's begin.
1. Aveva PDMS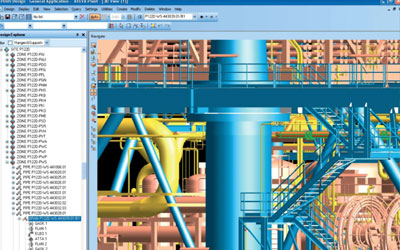 One of the best piping design software courses in Dubai will be Aveva PDMS. It is a plant design management course in which a group of designers keeps their own 3D color-shaded environment and operate together as a team. Aveva PDMS course helps competent engineers to upgrade their 2D layout to 3D models which helps in improving accuracy and can access every single design around them.
PDMS is highly useful in the efficient and quick modeling of the entire 3D layout of the logical models of plants. It also helps in testing the suitability and fittings virtually and also automatically generate the list of material required. There are a great many benefits of using Aveva PDMS software such as reducing site reworks, effective use of dispersed design teams, enhances project quality, minimizing schedule times, and many more.
Key features of Aveva PDMS include:
Fully interactive and easy-to-use 3D Environment for every design project
Access to view entire designs going on around them
Clash checking and identifying errors across the design
Advanced 3D editing features and graphic handles
Built-in intelligence
Aveva PDMS Course Curriculum:
Aveva PDMS Basics and Functions
Basic Equipment Modelling
PDMS Pipework Modeling
PDMS Structural Modeling
PDMS Design Utilities
PDMS Drawing Reductions
Basics of Aveva PDMS Administration
Course Duration: 1 Month
2. Aveva Everything 3D (E3D)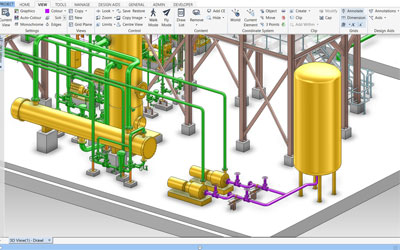 Aveva Everything 3D or E3D is the most technologically advanced 3D design solution globally that is used by engineers and designers. This is also a perfect choice for piping design software courses in UAE. Aveva E3D is multi-user, customizable, and multi-discipline software that provides a great many benefits such as facilitating a clash-free environment, enabling visualization, helping to reduce cost, increasing efficiency, and a ton more.
Undertaking this course will give you comprehensive knowledge on developing and modifying 3D models, how to manipulate 3D models, concepts such as attributes, positioning, the orientation of elements, etc. Aveva E3D software is useful in providing in-class project execution capabilities and also helps the global Aveva community users to collaborate.
Key Feature of Aveva Everything 3D:
Enhances design efficiency
Rapid deployment and project startup
Ensures drawings are verified to meet regulatory standards.
Eliminate rework in construction
Aveva Everything 3D (E3D) Course Curriculum:
Equipment
Piping
Structural
Draft
ISODRAFT
Course Duration: 1 Month

3. Smart plant 3D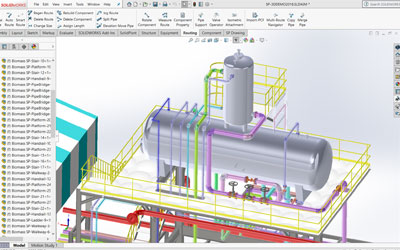 Smart Plant 3D is a piping design software course that offers great career prospects. Smart plant 3D is a 3D modeling software used by engineers and designers for piping design. This is multi-disciplinary and integrated and is also one of the most advanced 3D modeling software.
Using Smart plant 3D has a lot of benefits for the organization such as it reduces cost, eliminating wastage, increasing efficiency & productivity, and also reducing the time taken to complete each task. Smart plant 3D has a great scope and will be a perfect addition of skills for engineering graduates.
Key features of Smart Plant 3D:
Boost efficiency and doubles the design process
Allows redesigning and eliminates wastage
Enables contractors to manage and handle finished projects globally
Reduces time taken to provide information
Maintain the reliability of data produced
Smart Plant 3D Course Curriculum:
Introduction to Smart-Plant 3D
Basic Equipment Modelling
Grids
Pipe System
Structure System
Hangers and Supports
Electrical Cable Tray
Ducting Work
Course Duration: 1 Month
4. Caesar ||
When it comes to pipe flexibility and stress analysis, the most used software program will be Caesar || and can be a suitable piping design software course option for you. This is used to determine the accuracy of defining pipe system models and make necessary design corrections or changes. This software helps in boosting productivity, improves data accuracy, saves time, and many more.
Caesar || software always bring forth the currently recognized standard using standard analysis guideline for the analysis made. It also makes sure to meet the benchmark of 35 international standards and codes of plant piping systems.
Key Features of Caesar ||:
Increases productivity and data accuracy
Easy to input and display every data needed to define the piping system analysis model accurately
Quickly develop an analysis model and clearly indicate areas of concerns
Caesar || Course Modules:
Introduction to Caesar ||
Modeling of Pipe
Model with Bend and Tees
Equipment Modeling with Rigid Weights
Nozzle Creation
Types of Restraints
Static Analysis
Stresses Due to Various Loads
Stress Reports Generation
Underground Modeling
Course Duration: 1 Month
5. Bentley Autopipe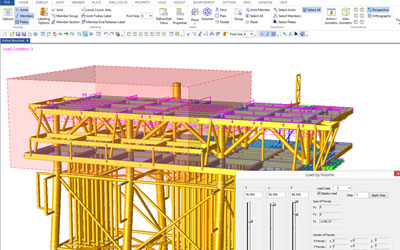 Bentley Autopipe is a brilliant and perceptive analysis and design software used for determining pipe stress, deflection, and load on multiple load conditions. There are various benefits of using Bentley Autopipe for the organizations such as the capability to model, analyze and envision pipe stress, calculate pipe stress clashes, improve consistency, save time, and many more.
Bentley Autopipe comprises numerous automation features and unmatched interoperability with the rest software applications. Autopipe comes in three suites as well which are: AutoPipe, AutoPipe advanced, and AutoPipe Nuclear.
Key Features of Bentley Autopipe:
Graphical user interfaces facilitate users to create and modify pipe stress analysis easily.
Advanced analysis feature as well as a graphical review of results.
Interface with other Bentley applications
Quality assurance
Bentley Autopipe Course Modules:
Modeling
Dynamic Analysis
Piping Codes
Unlimited Static Analysis
Thermal stratification bowing analysis
Automated batch processing
Maximum intermediate stresses
The reference point for manufacturing equipment loading reports
Course Duration: 2 Weeks
Concluding:
The above-mentioned 5 piping design software courses are the best ones to consider if you are planning to pursue pipe design courses in UAE. The career opportunities these courses provide are immense, especially in UAE where you can experience better technical exposure and pay packages. The key to becoming competent in your field is regarding the level of training you acquire and thus it is vital to pursue these courses from institutions that help you in building your skill, knowledge, and ability as proficient engineering personnel.
ASTS Global Education Inc is an accredited institution to learn piping design courses in UAE. With years of excellence in providing training, ASTS offers world-class training for aspiring and determined candidates and help them to climb the ladder to success. The training offered by certified industry experts and professional help you to gain a better understanding of the real-time project. Moreover, ASTS offers placement assistance for candidates to help them achieve great many career benefits and prospects.